FatDetox
detoxification blend {10ml}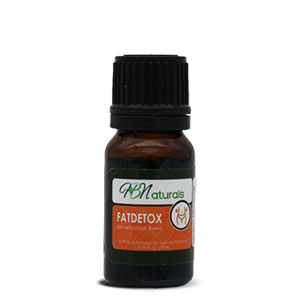 Product Summary
Cellulite is the term for fatty deposits beneath the skin that result in the appearance of lumpy, dimpled flesh generally found on the thighs, hips, buttocks, and belly.*
Cellulite is one of the harder types of fat to lose. You can lose inches and pounds, yet still suffer from this type of fat that creates unsightly dimpled skin. It is estimated that between 80 and 90 percent of women may experience cellulite at some point in their lives.*
Many believe that the cellulite contains toxins from our environment and beauty products such as petrochemicals, pesticides, and heavy metals.*
Application
Topical
Safety Group #2
Ingredients
Citrus paradisi (Pink Grapefruit), Citrus limon (Lemon), Cymbopogon citratus (Lemongrass), Zingiber officinale (Ginger Root), Cupressus sempervirens (Cypress), Juniperus communis (Juniper Berry), Cocos nucifera (Fractionated Coconut Oil)
Ingredient Highlights
Pink Grapefruit has been shown to increase metabolism, help suppress appetite, dissolve fat, prevent bloating and reduce water retention. Pink Grapefruit contains nootkatone, a natural organic compound that triggers a vital protein/enzyme in the liver and musculoskeletal system to boost physical performance and metabolism.
Lemon helps to remove toxin build-up from the body, increases energy levels, and supports healthy digestion. Research has shown that inhaling the scent of lemon can boost your mood and promote the breakdown of body fat.
Lemongrass is well known for its circulation-boosting properties as well as its ability to reduce fluid retention. It also offers astringent and antiseptic properties that help promote healthy, radiant skin.
Ginger Root has powerful detoxifying and invigorating qualities that may be helpful in reducing cellulite.
Cypress contains properties that act to strengthen and tone the circulatory and nervous systems while relieving circulatory and lymphatic congestion. It may assist to prevent the spread of varicose veins, hemorrhoids, and edema, especially in the lower limbs.
Juniper Berry helps improve blood circulation and decrease water retention, thereby assisting in the removal of toxins in the body. It also acts as a natural skin toner, and reduces the appearance of skin blemishes.
Primary Benefits
Boosts circulation and reduces fluid retention.
Moisturizes and nourishes skin.
Improves mood.
Uses
Apply onto areas of concern and massage in twice per day to assist in reducing the appearance of cellulite.
Responsible Cautions
Non-toxic, non-irritant, non-sensitizing
Keep out of reach of children and pets.
Possible skin sensitivity. If used topically, avoid sunlight or UV rays for up to 12 hours after application.
If you are pregnant, nursing, or under a doctor's care, consult your healthcare provider prior to use.
Store away from sunlight, at room temperature, with the lid securely tightened.
The information in this document has not been evaluated by the FDA and is not intended to treat, diagnose, cure, or prevent any disease. This information is not intended as a substitute for the advice or medical care of a qualified healthcare professional and you should seek the advice of your healthcare professional before undertaking any dietary or lifestyle changes. This information is provided for educational purposes only.