Slimmer Oil
metabolic blend {10ml}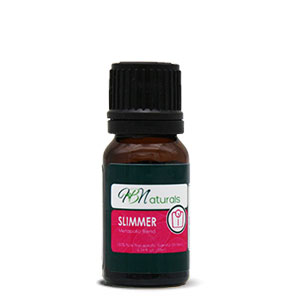 Product Summary
Slimmer is a proprietary blend combining essential oils known for their powerful abilities to naturally boost metabolism.
When ingested in water or other beverages, Slimmer can assist in managing cravings and reducing the desire to overeat.
Diffused or applied topically, its uplifting aroma promotes a positive outlook.
Combined with a sensible diet and regular physical activity, Slimmer can assist with healthy weight management.
Application
Aromatic • Internal • Topical
Safety Group #2
Ingredients
Citrus paradisi (Pink Grapefruit), Citrus limon (Lemon), Cymbopogon citratus (Lemongrass), Mentha piperita (Peppermint), Zingiber officinale (Ginger Root)
Ingredient Highlights
Pink Grapefruit has been shown to increase metabolism, help suppress appetite, dissolve fat, prevent bloating and reduce water retention. Pink Grapefruit contains nootkatone, a natural organic compound that triggers a vital protein/enzyme in the liver and musculoskeletal system to boost physical performance and metabolism.
Lemon helps to remove toxin build-up from the body, increases energy levels, and supports healthy digestion. Research has shown that inhaling the scent of lemon can boost your mood and promote the breakdown of body fat.
Lemongrass is well known for promoting a positive outlook when diffused, and assists in supporting healthy digestion when used internally.
Peppermint naturally suppresses the appetite, which can assist you to avoid overeating. It also helps to reduce bloating and indigestion.
Ginger Root contains gingerols, compounds that reduce inflammation in the intestines and assist in the absorption of vitamins and minerals from the foods you eat.
Primary Benefits
Supports healthy metabolic function when ingested.
When taken with water, helps to manage cravings.
Free of calories and stimulants.
Uses
Add 1 to 4 drops to 8 ounces of liquid first thing in the morning, and then again 15 to 30 minutes before each meal, to assist with managing appetite & cravings.
To make Slimmer Skinny Water, add 1 to 4 drops along with 1 scoop of SLIMMER Healthy Weight Management in 8 fluid ounces of water. Drink at least 1 gallon per day.
Add several drops to fruit smoothies, or protein shakes for a delicious citrus flavor.
Diffuse as desired for a clean, uplifting aroma.
Apply topically, diluting with carrier oil to minimize skin sensitivity, as desired for a fresh, energizing scent.
Responsible Cautions
Non-toxic, non-irritant, non-sensitizing
Keep out of reach of children and pets.
Possible skin sensitivity. If used topically, avoid sunlight or UV rays for up to 12 hours after application.
If you are pregnant, nursing, or under a doctor's care, consult your healthcare provider prior to use.
Store away from sunlight, at room temperature, with the lid securely tightened.
The information in this document has not been evaluated by the FDA and is not intended to treat, diagnose, cure, or prevent any disease. This information is not intended as a substitute for the advice or medical care of a qualified healthcare professional and you should seek the advice of your healthcare professional before undertaking any dietary or lifestyle changes. This information is provided for educational purposes only.