HSVDetox
detoxification blend {10ml}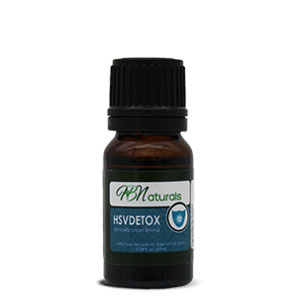 Product Summary
HSVDetox is formulated with essential oils that have been shown to assist the body with all types of herpes outbreaks.
Herpes, a viral disease caused by the herpes simplex virus (HSV), can cause painful infections on various parts of the body. Oral herpes (HSV-1) affects the mouth and may result in small blisters called cold sores or fever blisters. Genital herpes (HSV-2) may have minimal symptoms or form blisters that break open and result in small ulcers.
The herpes virus cycles between periods of dormancy (no symptoms) and attacks/outbreaks, which can be brought on by illness (mild to serious), fatigue, physical or emotional stress, immunosuppression due to disease, chemotherapy, or steroids, trauma to the affected area, including sexual activity, and even menstruation.
Users of HSVDetox have reported that daily use greatly minimizes repeat outbreaks.
Application
Topical
Safety Group #4
Ingredients
Salvia officinalis (Sage), Cinnamomum camphora ct. 1,8 cineole (Ravintsara), Melaleuca quinquenervia bs. viridiflora (Niaouli), Corylus avellana (Hazelnut), Vitis vinifera (Grapeseed)
Ingredient Highlights
Sage is capable of inhibiting fungal infections, including candida, and externally it can provide relief from infections like dysentery, thrush, athlete's foot, dermatitis, etc. Its antioxidant and anti-inflammatory properties make it useful on the skin as an anti-aging and anti-scarring.
Ravintsara is an excellent immune stimulant and a potent antiviral and anti-infectious agent. It is recommended for preventing and treating all forms of viral infection, particularly respiratory.
Niaouli is an effective immunostimulant that increases the antibody and white blood cell count, making it ideal for boosting the immune system and as a recuperative oil. It promotes the formation of new tissue, and is an excellent choice when treating abrasions, cuts, and skin blemishes.
Primary Benefits
Supports and assists the body with herpes outbreaks.
May prevent or lessen repeat herpes outbreaks.
Supports a healthy immune system.
Uses
Gently apply 2-3 drops to affected areas as needed to assist the body with all types of herpes outbreaks.
Responsible Cautions
Non-toxic, non-irritant, non-sensitizing
Keep out of reach of children and pets.
If you are pregnant, nursing, or under a doctor's care, consult your healthcare provider prior to use.
Store away from sunlight, at room temperature, with the lid securely tightened.
The information in this document has not been evaluated by the FDA and is not intended to treat, diagnose, cure, or prevent any disease. This information is not intended as a substitute for the advice or medical care of a qualified healthcare professional and you should seek the advice of your healthcare professional before undertaking any dietary or lifestyle changes. This information is provided for educational purposes only.